Rapida Pressure Cooker
The most inexpensive pressure cooker that Fagor has available, this is also it's most basic model.
If you compare its cost with that of other pressure cookers you will see for yourself that it is very cost efficient, yet a worthwhile investment, because it is designed to meet the needs of the average user. It is also a member of Rapida's specialty cookware collection.
Modern appearing, it features a smooth European-designed belly shape that gives it a trim look.
Rapida Pressure Cooker Features
The Fagor Rapida pressure cooker has one pressure setting: High (15psi) and is fun and simple to use.
Composed of 18/10 stainless steel and it can be successfully used on virtually every cooking surface, including: gas, electric, and ceramic.
Fagor rapida is eco friendly produtc and made of partially recycled stainless steel and are polished using only mechanical procedures instead of chemical.
Gives guaranteed even heat distribution and can be cleaned almost effortlessly
Available in 4qt, 6qt, 10 qt and for 10 qt, besides pressure cooking, the unit can even be used for pressurized canning.
Has a visual pressure indicator
An automatic pressure release system which provides an out so that pressure doesn't get the opportunity to build up inside to detrimental levels.
Safety Features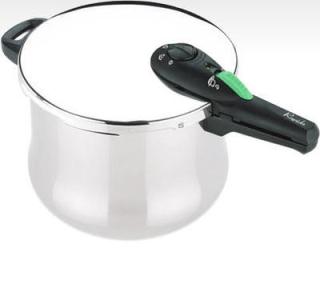 Fagor Rapida pressure cooker also has a Triple Safety Mechanism. This includes a dual pressure control valve with a method for over pressure release, if needed, and a handle with a safety lock.
In the unlikely event of an accident, you are protected from harm because the safety handle will not allow the pressure cooker to open. This is a feature that older models did not have.
Now the words pressure cooker can be a bit intimidating. But you can rest assured that all Fagor Pressure Cookers are absolutely safe and carry no risk for explosion.
Warranty
Since people who purchase Fagor cookware products are looking for convenience without surrendering quality, Fagor has given this pressure cooker a ten-year limited warranty.
If something goes wrong you won't be stuck with a useless product. But there's no need to be concerned. Fagor products have an excellent track record and won't disappoint you.
Accessories and Manual
There is a Fagor Home Canning Kit which should be purchased along with it, however, if you are planning on using it for this purpose.
As an added bonus along with it's user manual, the Fagor Rapidia pressure cooker also comes with recipe suggestions for pressure cookers.
Perfect for Beginner
No complications that take time to read about, just ease of use that the makers of other pressure cookers envy:
One high (15 psi) pressure setting operated by a dial format
One valve allows you to choose between automatic pressure release and pressure setting
You will know when the pressure is released by looking at visual indicator whether it is raise or not.
If you are looking to purchase your first pressure cooker, even if you know next to nothing about them, then this one has lots to offer and besides being visually appealing, it's remarkably simple to use.
Model that available in the market
Model number 918011938 - 4 quart, 918011947 - 6 quart, 918010289 - 10 quart
All Rapida pressure cooker above comes with manual and recipes. But if you lost it you can still download it for free here - Download rapida pressure cooker manual
Model number 918010092 is a 5 piece set including 4 and 8 quart pot, Lid that fits both pots, tempered glass lid also fit both pots, pasta and steamer basket with trivet, and comes also with manual and recipe with less price compare you buy both 4 and 8 quart individually




---
Follow Best Pressure Cooker
From Rapida Pressure Cooker Back to Fagor Pressure Cookers


Back to Best Pressure Cooker - Homepage


---
Main Categories:
Best Pressure Cooker Blog | Presto Pressure Cooker | Fagor Pressure Cooker | Hawkins Pressure Cooker | GSI Pressure Cooker | Cuisinart Pressure Cooker | Manttra Pressure Cooker | Magefesa Pressure Cooker | Deni Pressure Cooker | Wolgang Puck Pressure Cooker | Kuhn Rikon Pressure Cooker | Prestige Pressure Cooker | WMF Pressure Cooker | Tefal Pressure Cooker | All American 921 Pressure Cooker | Mirro Pressure Cooker | Faberware Electric Pressure Cooker | Electric Pressure Cooker | Small Pressure Cooker | Digital Pressure Cooker | Stainless Steel Pressure Cooker | Vasconia Pressure Cooker | 5 Quart Pressure Cooker | Pressure Cooker Cook Book | Free Pressure Cooker Recipes | Pressure Cooker Instructions | Buy Pressure Cooker | Cooking with Pressure Cooker | Pressure Cooker Fryer | Pressure Rice Cooker | Pressure Cooker Parts |
---