WMF Pressure Cookers
WMF pressure cookers Perfect Plus set is an amazing product.
The Perfect Plus set includes two cookers of 6.5 litres and 3 litres. It comes with a stainless steel lid that fits both the cooking pots and can be used interchangeably. These pots are not just pressure cooking pots, but they can also be used as regular pots.
However, it is best if you can use them with glass lid. WMF has glass lids that need to be purchased separately that fit both these cooking pots. This way you can make your set versatile.
Features
Multi Purpose Cooker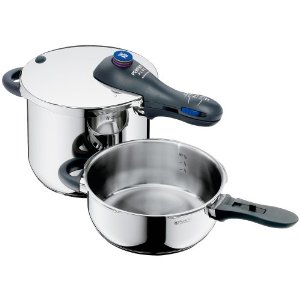 WMF pressure cookers Perfect Plus set
Perfect Plus series is ideal for many kinds of cooking. You can cook vegetables, potatoes, meat, fish and many other things in these cooking pots.
You can also choose your cooking style like steaming, stewing, roasting or braising. This makes these cookers multi-purpose which is perfect.
Appearance
It is not just the features of the cooking pots, even the rest of the aspects of the cookers make them quite unique and technologically superior.
The handles are made from flame protected material. The handle is made from phenolic material that always remains cool, regardless of how long the actually cooking takes. You can clean the handle separately by removing it and holding it under running tap water. Do not worry you have a user manual that will explain exactly how to remove the handle, clean it and replace it back.
The cookers are made from superior quality Cromargan stainless steel of 18/10 grade. Polished mirror finish gives the pots an everlasting new look.
Easy to clean
These can be cleaned with utmost ease and you will never worry about washing these cookers. The unit is also dishwasher safe, except for the handle. So just remove the handle and clean the rest of the cooker in the dishwasher. Even the lids are made with many safety features including the audible alarm.
Flat base
The flat base means that this unit can be used to cook on any surface. Gas stoves, ceramic stoves, electric stoves and induction stoves – these cooker pots will work effectively on all these surfaces. So you cooking range will not limit your ability to purchase this set. The base is made by the Trans Therm technology which aids faster transfer of heat from the heating surface to the food inside. This ensures rapid cooking. Also, the base ensures even distribution of heat so the food gets cooked uniformly, making the process even faster.
Manual and Recipe Book
Of course like many other pressure cookers, this unit also comes with a user manual and a recipe book. If you are new to pressure cooking or have run out of ideas for making new dishes, then this recipe book is all that you really need.
This unit is designed in Germany and has all the features that can make it an indispensible part of your kitchen.
Where to buy this?
Amazon.com has this product and sell it at 25% OFF as per this article written. click here to check current price.
If you lived in UK, you can buy and read WMF Perfect Plus 6.5 liter capacity review here






---
Follow Best Pressure Cooker
From WMF Pressure Cookers Back to Best Pressure Cooker - Homepage






---
Main Categories:
Best Pressure Cooker Blog | Presto Pressure Cooker | Fagor Pressure Cooker | Hawkins Pressure Cooker | GSI Pressure Cooker | Cuisinart Pressure Cooker | Manttra Pressure Cooker | Magefesa Pressure Cooker | Deni Pressure Cooker | Wolgang Puck Pressure Cooker | Kuhn Rikon Pressure Cooker | Prestige Pressure Cooker | WMF Pressure Cooker | Tefal Pressure Cooker | All American 921 Pressure Cooker | Mirro Pressure Cooker | Faberware Electric Pressure Cooker | Electric Pressure Cooker | Small Pressure Cooker | Digital Pressure Cooker | Stainless Steel Pressure Cooker | Vasconia Pressure Cooker | 5 Quart Pressure Cooker | Pressure Cooker Cook Book | Free Pressure Cooker Recipes | Pressure Cooker Instructions | Buy Pressure Cooker | Cooking with Pressure Cooker | Pressure Cooker Fryer | Pressure Rice Cooker | Pressure Cooker Parts |
---