Fagor Rapida Pressure Cooker
Fagor has some of the best looking designs that offer real value for money.
The Rapida is one such brand of products from Fagor.
If you are looking for the best deal in pressure cookers you must consider the 5 - Pc. Fagor Rapida Stainless Steel Pressure Cooker Set.
You get not one but two pressure cookers and three important accessories and complimentary additions that make it a great deal. Of course, if you search online you could bring down the costs further in deals or instant discounts.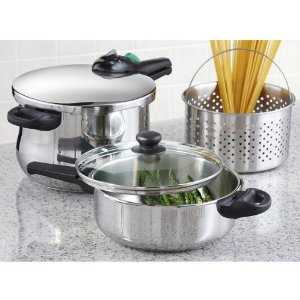 Fagor Rapida
Pressure Cooker Set
The 5 piece Fagor unit comes with
8 quart pressure cooker
4 quart cooker pot
Stainless steel lid for pressure cooking
Glass lid for regular cooking
Steam basket with trivet support
Besides these you also get a user manual that teaches you to use the pressure cooker effectively and a recipe book that introduces you to the world of pressure cooking and the delicious foods you can make with these kitchenware.
Important features
European designed belly shaped cooking pot
Spring mechanism
Single high pressure settings at 15 psi
Visual pressure indicator
Automatic pressure release
Made from high grade 18/10 stainless steel
Flat based cooker works well on all heating surfaces
About Fagor Rapida Pressure Cooker
Apperances
The Fagor Rapida pressure cooker set is a perfect addition to any contemporary kitchen and also a great gift idea too.
The cooking pots in this cooker are made from high quality stainless steel with mirror finish. This gives the units a fresh and new look while making them easy to clean.
The unit is dishwasher safe meaning you do not have to struggle trying to clean it every day. These are not just pressure cooking pots, they can be used as regular cooking pots. The stainless steel lid and the glass lid which fit both the pots add this versatility to these pots.
The unit is designed in Spain and has a bonded diffuser base. This ensures faster heat transfer and uniform heating.
The unit is highly fuel efficient and can work on any heating surface. You can use a gas powered range, a coil stove or the new induction heating surfaces. Your cooker will work perfectly everywhere.
Safety Systems
These cookers also have three safety systems in place to give you the best and the safest cooking experience. You have the dual pressure control valves that help regulate the pressure inside the cooker.
The dual independent pressure release valves mean that even if one gets clogged the other will help release the steam.
Lastly the safety locking handle ensures that you cannot open the cooker till the pressure inside falls to normal levels.
Manual and Warranty
Some other incentives to purchase this already sweet deal is the instruction manual and the recipe book. Most times new pressure cooker users have a tough time figuring out how to operate it. Even if they learn, they will have even more problems trying think of good recipes to make.
These two books accompanying the cooker set will ensure you will not have the same predicament. And with a 10 year limited warranty to go with all this, there is really few things you would complain about this deal.
Customer Reviews
Pros
Built so well. The unit is shining stainless steel, very thick and solid.
A good combo of 4 and 8 quart Pressure Cooker.
Cooks quietly.
If you are new to pressure cooking you can't go wrong with this set.
Easy to clean!
Best value! you got 2 pots in a price of 1
Cons
Use black plastic handle, kind of cheap, easy to get burned and cracked
Compare Price
When you compare price of Fagor Rapida Pressure Cooker between Sears.com and amazon.com. Amazon.com has the lowest price so far. They will give you a 57% discount if you buy through this link
---
Follow Best Pressure Cooker
From Fagor Rapida Pressure Cooker Back to Fagor Pressure Cooker






Back to Pressure Cooker Reviews - Homepage


---
Main Categories:
Best Pressure Cooker Blog | Presto Pressure Cooker | Fagor Pressure Cooker | Hawkins Pressure Cooker | GSI Pressure Cooker | Cuisinart Pressure Cooker | Manttra Pressure Cooker | Magefesa Pressure Cooker | Deni Pressure Cooker | Wolgang Puck Pressure Cooker | Kuhn Rikon Pressure Cooker | Prestige Pressure Cooker | WMF Pressure Cooker | Tefal Pressure Cooker | All American 921 Pressure Cooker | Mirro Pressure Cooker | Faberware Electric Pressure Cooker | Electric Pressure Cooker | Small Pressure Cooker | Digital Pressure Cooker | Stainless Steel Pressure Cooker | Vasconia Pressure Cooker | 5 Quart Pressure Cooker | Pressure Cooker Cook Book | Free Pressure Cooker Recipes | Pressure Cooker Instructions | Buy Pressure Cooker | Cooking with Pressure Cooker | Pressure Cooker Fryer | Pressure Rice Cooker | Pressure Cooker Parts |
---