Maxi Matic Pressure Cooker
Elite Platinum pressure cooker caught my eyes for the first time in a mall where I had been for shopping.
There was a small demonstration arranged by the sales people to understand the functioning of this pressure cooker.
I was so surprised to the customized functions of the pressure cooker. In addition to this, the designing of this cooker is beautiful that it will definitely win a place in our kitchen. There are lot many exciting features in this cooker to hold your breath tight. Let's have a look into it
Features: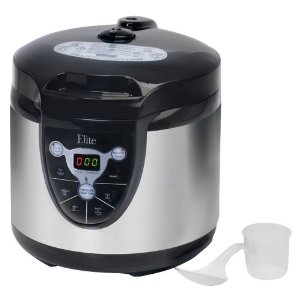 Elite Platinum 6qt
Cooking made easy with a single touch programming. The stainless steel exterior along with the non-stick cooking interior will add to the beauty of your kitchen with its exclusive designing and easy to clean features.
There are 5 preset cooking functions enabled like pressure cooking, stewing, braising, simmering, roasting and 9-hour preset timer enables tasty meals ready in no time.
The programming is made easy with touchpad digital control with LED display which monitors your cooking. You will never feel the presence of this huge vessel in your kitchen unless it releases pressure. The interior is made up of a non-stick pan.
This cooker is a little bulkier in size and it would need a little extra space in your kitchen.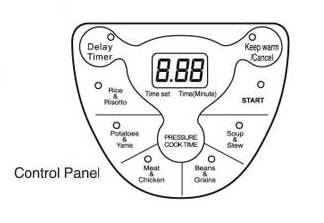 Advantages:
This is a multifunctional cooking system where in you can cook rice, soup, porridge and stew 70% faster than any other conventional method. The removable non-stick pan makes it easy to clean. The smart stainless steel exterior gives it a classic finish with every wash.

You don't have to worry in case of any power failure. Unlike other pressure cooker's, Maxi Matic reassumes cooking automatically after the power is restored from a power failure. You do not have to monitor your cooking due to the availability of an alarm signal which notifies you once the cooking is done.
The instruction manual holds all the do's and don'ts along with a few recipes. Apart from this, there is an online access too to the recipes which gives you a wider option to choose from.
Asian style short ribs can be prepared in less than 8 minutes which is a good news for the all ribs lover out there. So if you wish to prepare delicious dishes fast and quick then stop scanning for pressure cookers which promises high hopes and turns out to be an empty vessel.
Click here to download Maxi matic elite platinum 6 quart manual
Disadvantages:
The only disadvantage which customer found working with this cooker is they can't adjust the PSI.
Amazon.com gives this product a 4 out of 5 star rating based on 1 Customer review.
Last Word:
There are 2 reasons why I recommend this Maxi Matic pressure cooker. The first is easy to use. With a recipe inside the manual, cooking is much easier with Maxi Matic Pressure Cooker.
Second one is "set it and forget it". This features makes me not to worry about leaving pressure cooker on the stove.
click here to check its price - Elite Platinum 6 quart
---
Follow Best Pressure Cooker
From Maxi Matic Pressure Cooker Back to Digital Pressure Cooker






Back to Homepage


---
Main Categories:
Best Pressure Cooker Blog | Presto Pressure Cooker | Fagor Pressure Cooker | Hawkins Pressure Cooker | GSI Pressure Cooker | Cuisinart Pressure Cooker | Manttra Pressure Cooker | Magefesa Pressure Cooker | Deni Pressure Cooker | Wolgang Puck Pressure Cooker | Kuhn Rikon Pressure Cooker | Prestige Pressure Cooker | WMF Pressure Cooker | Tefal Pressure Cooker | All American 921 Pressure Cooker | Mirro Pressure Cooker | Faberware Electric Pressure Cooker | Electric Pressure Cooker | Small Pressure Cooker | Digital Pressure Cooker | Stainless Steel Pressure Cooker | Vasconia Pressure Cooker | 5 Quart Pressure Cooker | Pressure Cooker Cook Book | Free Pressure Cooker Recipes | Pressure Cooker Instructions | Buy Pressure Cooker | Cooking with Pressure Cooker | Pressure Cooker Fryer | Pressure Rice Cooker | Pressure Cooker Parts |
---