Splendid Pressure Cooker
There are many series of kitchenware manufactured by Fagor. However the Splendid brand, as the name suggests is probably one of the series that stands out for its impressive design and performance.
Many people who have used a Splendid have described it as it is – splendid. It is truly a great pressure cooker and if you are planning to buy one, you can look at this one.
Splendid Pressure Cooker At A Glance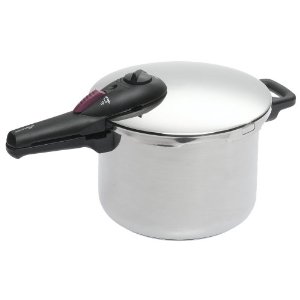 Splendid Pressure Cooker
Capacity: 6 quart
Fast Cooking: Reduces cooking time by as much as 70% compared to traditional techniques
Quality: 18/10 stainless steel material makes for great cooker
Pressure: Supports high pressure at 15 psi
Cooks on any surface
Cooking Club of America Recommended
Comes with user manual and recipe book
10 year limited warranty
About Splendid Pressure Cooker
The Splendid is a very impressive series of pressure cookers from Fagor. It is made from high quality steel which keeps it durable and tough to handle the high pressures and still deliver top quality performance.
The cooker has a single pressure setting at high or 15 psi. At this pressure the boiling point of water reaches nearly 1200C so the food gets good pretty quickly.
The pressure cooking of food means that it does not need any oil and it retains most of the nutrients in the food. Thus you get wholesome nutritious and tasty food to eat.
Apperances
The base of the cooker is made up of three layers. It consists of an aluminum layer sandwiched between the high grade steel layers. This thick and flat base can cook efficiently and on any surface. You can use this cooker on gas, ceramic, induction or electric stoves and it will work equally well on all of them.
Size that are available
The Splendid cookers are available in a wide selection of capacities like 4 qt, 6 qt and 10 qt. The 6 quart model is perfect for family use.
It can hold enough food to cook a complete meal for 4-6 people. The 10 quart is larger and better suited for canning purposes.
Features
These cookers come with a visual pressure indicator to let you gauge the pressure within the cooker and operate it accordingly.
It also has an automatic pressure release system. There is a selection option that lets the unit perform the pressure setting and pressure release functions.
All these wonderful features have ensured that this cooker gets the nod from the Cooking Club of America.
Manual and Recipe Book
It is not just about the features. You also get a user manual which will make you comfortable with the operations of the cooker.
Many times even the seasoned pressure cooker users have some trouble getting used to the new model the user manual can help tide this period of uncertainty. For the newbies, the user manual is the bible to follow.
Another interesting complimentary value add is the pressure cooking recipe book. Most people do not know the true power of pressure cookers. They can do a lot more things than just cook grains. With a good guide, you can explore the exciting world of healthy and tasteful world of pressure cooking. This is where the recipe book comes in handy.
Warranty
Lastly, the unit comes with a 10 year warranty. This means that you can use it tension free for 10 years knowing that it is covered under the warranty. And of course, you will know take that long to realise that you have made a good investment.
Consumer Review
Pros
Splendid has an attractive price compare to other brand in the same size
The pressure cooker is very easy to use - one pressure setting and no more removable thing on top that jiggles (which can easily be misplaced or lost).
Clean-up was easy. Just wash out with warm water and mild detergent.
cons
Upper handle become to defrom because of the heat
The manual book isn't very clear on how to tell when the cooker is at full pressure.




How much is it?
Amazon.com has a 22% discount if you buy through this link




---
Follow Best Pressure Cooker
From Splendid Pressure Cooker Back to Fagor Pressure Cookers


Back to Best Pressure Cooker - Homepage


---
Main Categories:
Best Pressure Cooker Blog | Presto Pressure Cooker | Fagor Pressure Cooker | Hawkins Pressure Cooker | GSI Pressure Cooker | Cuisinart Pressure Cooker | Manttra Pressure Cooker | Magefesa Pressure Cooker | Deni Pressure Cooker | Wolgang Puck Pressure Cooker | Kuhn Rikon Pressure Cooker | Prestige Pressure Cooker | WMF Pressure Cooker | Tefal Pressure Cooker | All American 921 Pressure Cooker | Mirro Pressure Cooker | Faberware Electric Pressure Cooker | Electric Pressure Cooker | Small Pressure Cooker | Digital Pressure Cooker | Stainless Steel Pressure Cooker | Vasconia Pressure Cooker | 5 Quart Pressure Cooker | Pressure Cooker Cook Book | Free Pressure Cooker Recipes | Pressure Cooker Instructions | Buy Pressure Cooker | Cooking with Pressure Cooker | Pressure Cooker Fryer | Pressure Rice Cooker | Pressure Cooker Parts |
---