Presto Stainless Steel Pressure Cooker
The Presto stainless steel pressure cooker is one of the best products for pressure cooking in the market. It is very efficient and eco friendly.
It helps cut down the cooking time by nearly 70% as compared to traditional cooking. Besides, the other benefits of pressure cooking like better nutrient retention, tasteful and wholesome cooking are added benefits too. One of the most popular products is the Presto 6-Quart Stainless Steel Pressure Cooker.
This presto stainless steel pressure cooker is a real favourite among many buyers because of the features its packs into a reasonable price. You get stainless steel cooker with basic safety features and excellent cooking performance at much lower price than some of the other expensive products in the market. If you have used a pressure cooker before or understand how it works, you may just fall in love with it.
About 6 quart Presto Stainless Steel Pressure Cooker
The Size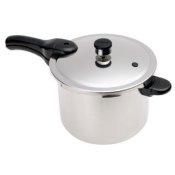 Presto 6-Quart Stainless Steel
Pressure Cooker 01362
This is a 6 quart cooker, which is perfect for a standard family of four to five individuals. It can cook food efficiently and with racks you can actually get multiple foods cooked at the same time without mixing them.
As it is pressure cookers are efficient, but with racks, you can make them more efficient by cooking multiple dishes at the same time. Their flavours too will not get mixed, so you can savour each dish separately.
Appearance
The cooker comes with stainless steel body that has a mirror finish. This luxurious looks make it very attractive it look at. Besides, the cooker retains its shine for many years. You can always boast of a good looking cooker for many years to come.
It is not just the looks; the shiny finish also makes cleaning very simple. You can clean the cooker with simple dishwashing liquid and a sponge – no more struggling with scrubber.
Technology
The unit comes with a tri-clad base. This is a very popular technology used in many models in the market. It has an aluminum base encased between two layers of steel.
This base is very effective in transferring the heat quickly from the stove to the food inside. This allows for rapid cooking. Secondly, the aluminum ensures that the heat is distributed evenly and uniformly.
Safety Features
The cooker comes with a cover lock indicator. This indicator will immediately show you the pressure inside the cooker.
This is a good gauge to determine when to open the cooker safely. There is a pressure regulator too that maintain safe pressure inside the cooker.
The handles of the cooker are ergonomically designed so that you can hold them and handle the cooker easily.
Besides, they are made from a unique material that ensures that the handle stays cool even while the food is being cooked. This allows you to grab the handle safely and move the cooker around after the cooking is completed.
Manual and Recipe Book
This cooker also comes with 12 year warranty and 64 page instruction book with some recipes. The book is a perfect introduction to the pressure cooking for any beginner.
Click here to download the manual
Customer Reviews
Pros
The body quiet sturdy and it won't break easily
This pressure cooker great for browning meat pieces for stew or stock.
Heats up fast and maintain the heat very well
Dishwasher safe
Replacemenat parts are easy to buy
Cheap Price. Currently Amazon.com offers only $40 for this products.
Cons
The pot can become rusty inside
The air vent in the lid gets stuck often.
About 8 quart Presto Stainless Steel Pressure Cooker
Presto Stainless Steel
Pressure Cooker 8 quart
Easy to handle with the presence of "stay-cool black plastic handles" is a heat resistant thus less risky and comes with a cooking capacity of 15psi. It is more preferable over the aluminum as the material would not contact with the food and cleaning gets much easier.
This solid pressure cooker come with a click lock system ensuring its security and the double-safe pressure valves guarantee safe and consistent cooking.
The 8-Quart capacity makes it very ideal for mid-sized families. It can easily hold four one-pint jars. There is an additional pressure indicator along with an overpressure plug.
A key component for any pressure cooker is the time it takes to prepare a dish and even a few extra minutes can spoil your delicious dish.
This pressure cooker is ten times faster than the general cooking method. The stainless steel steamer basket helps in quick release of steam.
You can also place this cooker in the fridge with the leftover food and reheat the next day to enjoy the same taste.
Customer Reviews
Pros:
Heavy- duty built
Capacity up to 8-Quart
Stainless steel construction
Heat resistant twin handles
Strong and easy click lock system
12 year warranty
Additional steaming rack included
Cons:
I do not see any cons personally. Overall the product is excellent. Let's hope you too do not find one.
Amazon.com gives this product a 4.6 out of 5 star rating. This is a good sign of most of customer satisfied with their purchase. Overall this presto 8 quart known as quality basic pressure cooker, it does what it's supposed to do. Great value for money!. Click here to read more reviews
Is Presto Stainless Steel Pressure Cooker worth to Buy?
If you're looking for non fancy things about pressure cooker and wants a cooker that do the job then this is the right product for you. How do you compare a $40 presto with $200 kuhn rikon? of course, money won't tell you lies but presto cook just as good as kuhn rikon although not as quiet as kuhn rikon.
Click here to check price and size available on amazon.com
---
Follow Best Pressure Cooker
From Presto Stainless Steel Pressure Cooker Back to Presto Pressure Cooker






Back to Best Pressure Cooker - Homepage


---
Main Categories:
Best Pressure Cooker Blog | Presto Pressure Cooker | Fagor Pressure Cooker | Hawkins Pressure Cooker | GSI Pressure Cooker | Cuisinart Pressure Cooker | Manttra Pressure Cooker | Magefesa Pressure Cooker | Deni Pressure Cooker | Wolgang Puck Pressure Cooker | Kuhn Rikon Pressure Cooker | Prestige Pressure Cooker | WMF Pressure Cooker | Tefal Pressure Cooker | All American 921 Pressure Cooker | Mirro Pressure Cooker | Faberware Electric Pressure Cooker | Electric Pressure Cooker | Small Pressure Cooker | Digital Pressure Cooker | Stainless Steel Pressure Cooker | Vasconia Pressure Cooker | 5 Quart Pressure Cooker | Pressure Cooker Cook Book | Free Pressure Cooker Recipes | Pressure Cooker Instructions | Buy Pressure Cooker | Cooking with Pressure Cooker | Pressure Cooker Fryer | Pressure Rice Cooker | Pressure Cooker Parts |
---