Pressure Cooker Timing Chart
Pressure cooking is a healthy alternative for people who like to cook with little or no oil and if cooked correctly for the right length of time, this method can not only save you cooking time and fuel but in doing so, also retains the natural flavour and nutrients of your food.
Once you have mastered the fundamentals of using your pressure cooker, it will open a whole world of cooking up to you whether you are a vegetarian, vegan or meat eater. You can easily adapt conventional stovetop or oven recipes so that you can cook them the quicker healthier way although you may need to research cooking times as cooking in a pressure cooker can dramatically vary cooking times.
Some examples, based on 1 cup of soaked dried beans, are:
Black beans take 1½ hours on the stovetop whilst they only take 6 to 9 minutes in a pressure cooker


Cannellini beans also take 1½ hours on the stove whereas the cooker, it only takes 10 to 12 minutes


Fava beans take 2 to 3 hours on stovetop and only 18 minutes when pressure cooked


Flageolet, red and Great Northern (or white) beans take 1 hour by stove and this is reduced to 12 minutes if cooked in a pressure cooker


Pinto beans cook in 1½ hours but in a cooker will only take 8 to 10 minutes


Garbanzo beans take 2½ hours to cook usually but can pressure cook in 18 minutes and


Un-soaked brown French lentils which take 40 minutes to cook on a stovetop can cook in a pressure cooker in 6 to 10 minutes.


This demonstrates just how much time can be saved when using a pressure cooker although when you refer to pressure cooking time charts, you need to bear in mind that the times shown do not include preparation time etc. and are rather an indicator of the time that the food is cooked under pressure.
It also does not include the time that the cooker takes to build the pressure which can be anything from 5 to 40 minutes after the lid has been sealed securely into place. The amount of time this pressure-building process takes all depends on how well your pressure cooker conducts heat, the size of the cooker, the heat setting, the amount of food and liquid placed inside and the temperature of the food as frozen or cold ingredients will lower the liquid temperature which will take longer to reach boiling point and create pressure.
If you are pressure cooking meat, you will need to add more liquid to the cooker and as most cuts of meat cook in 45 minutes or less, you will need to add at least 1 cup of water or stock although if you are cooking for an extended period, you will require at least 1½ cups of liquid.
As a guide, a whole chicken which weighs up to 4 pounds should cook in 25 minutes and up to 3 pounds of breast with the bone in should cook in 10 minutes using the quick pressure release method. However, these times are estimated and if you are in doubt, use a meat thermometer to check the meat's internal temperature to ensure that it is cooked through.
You can also cook vegetables in a fraction of the time in the pressure cooker using high pressure. Examples of cooking times are:
Large florets of broccoli or cauliflower take 2 minutes


½ inch peeled and sliced parsnips take 2 minutes although 2 inch pieces take 4 minutes


½ inch peeled, sliced carrots or peeled baby onions take 3 minutes


1 inch slices of squash, yellow crookneck or zucchini also only take 3 minutes


Medium quartered white potatoes or 2 inch cubes of sweet potatoes take 6 minutes whilst 2-3 ounce red new potatoes take 7 minutes


Halved and seeded acorn squash or baby carrots take 8 minutes and medium beets take 24 minutes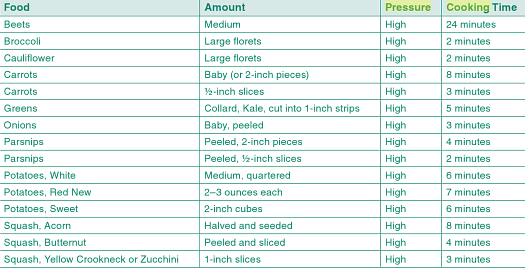 Pressure Cooker Timing Chart for Vegetables
Source: Everything Pressure Cooker Cookbook
Note: If the vegetables are unthawed and frozen, add 1 or 2 minutes to the cooking time to allow for defrosting
This demonstrates not only that it does not take long to cook vegetables in a pressure cooker but also that smaller, uniform pieces cook quicker that bigger piecess.
Pressure Cooker Timing Chart for Beans
Source: Vegetarian Times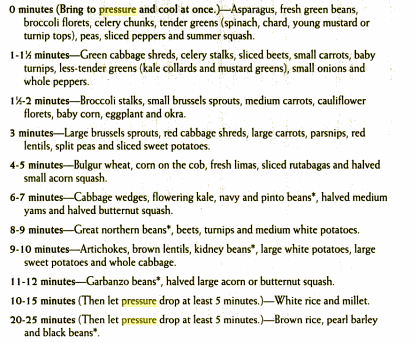 Pressure Cooker Timing Chart for most favorite vegetables, legumes and grain
Source: Vegetarian Times
Pressure Cooker Timing For Low, Medium and High Pressure
The pressure in the cooker can be controlled by adjusting the heat on the stove burner. This can be changed among 5, 10 and 15 pounds at temperatures of 220, 235 and 250 F. This difference in pressures is indicated in the recipes and the cookers have different means to check the pressure.
Low Pressure is usually used to cook delicate and tender vegetables or fish.


Medium pressure is used to make steamed puddings.


High pressure is commonly used in all the recipes and is used for cooking vegetables, rice, beans, pasta, meats, dried vegetables, fruits and mushrooms.


---
Follow Best Pressure Cooker
From Pressure Cooker Timing Chart Back to Free Pressure Cooker Recipes






Back to best-pressure-cooker.com


---
Main Categories:
Best Pressure Cooker Blog | Presto Pressure Cooker | Fagor Pressure Cooker | Hawkins Pressure Cooker | GSI Pressure Cooker | Cuisinart Pressure Cooker | Manttra Pressure Cooker | Magefesa Pressure Cooker | Deni Pressure Cooker | Wolgang Puck Pressure Cooker | Kuhn Rikon Pressure Cooker | Prestige Pressure Cooker | WMF Pressure Cooker | Tefal Pressure Cooker | All American 921 Pressure Cooker | Mirro Pressure Cooker | Faberware Electric Pressure Cooker | Electric Pressure Cooker | Small Pressure Cooker | Digital Pressure Cooker | Stainless Steel Pressure Cooker | Vasconia Pressure Cooker | 5 Quart Pressure Cooker | Pressure Cooker Cook Book | Free Pressure Cooker Recipes | Pressure Cooker Instructions | Buy Pressure Cooker | Cooking with Pressure Cooker | Pressure Cooker Fryer | Pressure Rice Cooker | Pressure Cooker Parts |
---